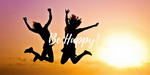 Be Happy! How to uplift your mood with Essential Oils.
Life can be a little crazy sometimes. We all can ed get stressed from work or feel overwhelmed at home. Stress is normal for everyone and aromatherapy can help with normal anxiety. Several essential oils are considered mood lifters and can help aid in depression, but the oils in Aromatic Infusions Happiness Blend have been perfectly blended to fill any room with positive vibes.
The citrus oils in this blend are traditionally noted for being uplifting and enhancing awareness, while the florals can be a mood lifter and the Chamomile a relaxer. This blend has been one of Aromatic Infusions most favorite blends and one of our first. Happiness Blend delivers an amazing, crisp aroma when diffused. It provides a clean, light daytime character to any room in the home. Just add 5-10 drops of Happiness Blend to any essential oil diffuser with water. 
So what's in this blend and why does it work?
These essential oils can affect different parts of the brain to enhance moods positively, affect hormone production, help the body and mind both feel uplifted, and relax the mind.
Bergamot (Citrus bergamia) is a very uplifting citrus oil that brings awareness and energizes the senses.
Ylang-Ylang (Caning odorata) is a very calming and peaceful oil that helps give our Happiness Blend a smooth, well-rounded aroma.
Geranium (Pelargonium graveolens) is another calming and soothing component to the Happiness blend; geranium is a power floral.
Rosewood (Aniba roseadora) clears the mind, soothes and eases stress.
Lemon and Mandarin (Citrus lemon, Citrus reticulata) energizing and cleans the air. Mandarin can be a nerve relaxant.
Jasmin Chamomile and Rose adds a sense of calm and fullness to the aroma, gives it a full body.
How can you use it?
Diffuse! This is one our top selling diffuser blends. It makes any room smell fresh and just happens to have a side effect of making you feel happy go lucky! 
Wear it! Diffuser jewelry has become very popular from necklaces to brackets. Just add a few drops of Happiness to the lava stones or wooden beads in your jewelry and wear it all day. 
Bath Salts! Add ten drops to 1/2 cup of pink Himalayan salts and add to bath water for a refreshing and energizing bath!
Roll it on! One of our favorite ways to use this blend is to combine ten drops to 1 tsp. of carrier oil, like fractionated coconut oil, and pour into a roller bottle. Roll on your wrist and neck, and you can smell this aroma all day. Not only will this aid in keeping you uplifted and focused during the day, but it can double as a perfume! 
We also like using this blend around the house in room fresheners, laundry pods, and cleaning solutions.  
Leave us a comment and let us know how you like to use this essential oil blend. Aromatic Infusions essential oil blends are made with 100% Pure Essential Oils.
Also if you love this blend make sure to stock up on our Happiness inhalers.