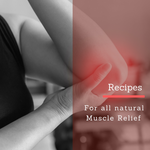 Eucalyptus globulus or Australian Eucalyptus (Blue Gum) is historically known for its respiratory therapeutic benefits and is a main ingredient in our Respiratory and Congestion blend.
Cineole is the primary active compounds in this Eucalyptus.  Cineole is an expectorant and decongestant. It's a very potent analgesic but it is also an anti-inflammatory. 
Here are two was to use this Essential Oil for sore muscles.
Eucalyptus muscle rub
1 ounce jojoba or other organic carrier oil
14 drops Blue Gum Eucalyptus
7 drops Peppermint
12 drops of Lavender
Combine all ingredients in dark container, shake well. Apply to muscular aches and pains as needed.
 Pro tip:  Pour mixture into roller bottle and apply to muscles post work out!
Post Work out Bath Salts
Combine the following:
5 drops of Blue Gum Eucalyptus
3 drops of Lavender
1 tablespoon of Jojoba oil
1/2 cup of pink Himalayan salts
Stir together and add to a full bath for a relaxing muscle soak.