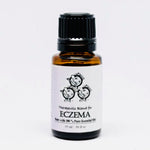 Suffer from eczema? I feel your pain (well, used to...)!
Part of the problem may be what you are eating. If your diet is full of grains and dairy it can be inflammatory and aggravate eczema. A diet to try is the Paleo diet. It can be hard but it is worth it!
Some of the problem could also be the products that you put on your skin. If you are using a lotion or soap (or even shampoo!) that contains chemicals that can irritate your skin, it will effect your eczema. The following are some of the products that you should try to get rid of/treat your eczema.
1.Goat Milk & Oatmeal Soap: This soap is extremely moisturizing. Make sure that you don't leave this soap in a puddle of water in your shower. Use a soap dish! You can pick up a soap dish made from a local woodworker at our shop for $5!
2.Eczema Oil: This oil blend was specifically designed to treat eczema. I have found that instantly, when applied, this oil has decreased the pain and discomfort of the eczema on my skin. I also use this oil whenever I have a hive reaction. IT WORKS!
3. Eczema Bath Salts: These bath salts are a therapeutic blend of dendritic salts, epsom salts, Himalayan pink salts, and have been enriched with magnesium. It features a blend of frankincense and myrrh, two powerful resins that specialize in battling against any skin condition!
RECIPE: WHIPPED COCONUT OIL
1 cup coconut oil
1 teaspoon vitamin E oil (optional)
10-15 drops of our Eczema Oil Blend
1. Put all ingredients into a mixing bowl. Note: Do not melt the coconut oil first. It will only whip up if it's solid.
2. Mix on high speed with a wire whisk for 6-7 minutes or until whipped into a light, airy consistency.
3. Spoon the whipped coconut oil body butter into a glass jar and cover tightly. Store at room temperature, or in the refrigerator if your house is so warm it melts the oil.
You can find this recipe and many more here!
I hoped this blog post helped. If you have any suggestions or questions that you would like me to answer in my weekly blog posts,  leave a message in the comment box below or even on our Facebook page! These blog posts are here to enhance your experience with our products!