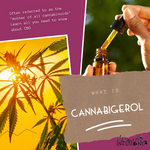 What Is CBG? Everything You Need to Know About Cannabigerol
What is CBG?  And is it any different than CBD?
Unless you live under a rock you've probably heard of CBD oil.  Creams, oils, salves, capsules, tablets, patches...  the list is long.  Now that the FDA has acknowledged the medicinal value in CBD, clinical studies have ramped up considerably on the cannabis plant, including hemp.  
What are Cannabinoids? 
Cannabinoids are Phytochemicals found in the cannabis plant.  There have been over 100 cannabinoids discovered in the cannabis plant but a few well-known and some not so well-known are worth paying attention to.  THC is the famous cannabinoid that gets you high if taken in high enough doses while CBD, almost as popular, has its own therapeutic benefits without the side effect of being intoxicated.  But there are also three other heavily studied cannabinoids that show much promise.
CBG, CBN, and CBC.
What is CBG and is it any different from CBD?
Cannabigerol (CBG) is a compound that traditionally has been challenging to extract from the cannabis plant.  Through breeding and extraction technology advances we are now able to acquire substantial amounts of CBG at a much lower cost.  This has allowed more studies to take place and a better understanding of this relatively new product.
Our bodies contain a system called the endocannabinoid system.  This system has CB1 and CB2 receptors.  Phytocannabinoids from the cannabis/hemp plant react with these receptors similar to the same way a pharmaceutical drug reacts with the body.  How well CBD, THC, CBG and other products works is due in part to how they react with these receptors and enzymes in the body.  CBG is known as the 'Parent' cannabinoid.  All Cannabinoids start out as CBG and then later convert to others like THC and CBD.  
Is CBG better than CBD?
To be sure, the clinical evidence on all cannabis products will only increase as the laws change and time goes by.  What we do know is that CBG reacts much more efficiently with the CB1 and CB2 receptors when compared to CBD.  We also know that through pre-trial clinical studies and through the vast amount of anecdotal information available, CBG has the potential for pain and inflammation relief, reduction of cancer cell growth in animal studies, relief from Crohn's disease, anxiety, Parkinsons, Huntingtons, MS and several other issues.  
Where can I buy CBG?
Louisiana now has a considerable CBG market as we are currently growing CBG rich hemp plants.  However, the regulations on CBG are very loose and one should be very cautious when buying CBG.  Always remember to ask for Lab test results, Certificates of Analysis, and where their product is made if you want to support Louisiana farmers.  If you buy CBG or CBD in Louisiana, it should be made in Louisiana. 
For state certified, locally grown CBD and CBG products you can go to
www.AromaticInfusions.com
.
We are Louisiana's First CBD company and we are a certified organic business.
  For potency, purity, transparency, and the lowest prices in the state, Aromatic Infusions is The Best option for certified CBD/CBG !!!!