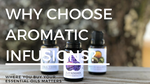 Essential oil, the choice can be easy. Where you should buy your oils and why.
By now, we have all heard of essential oils one way or another but there is still so much that we as a consumer do not know when it comes to purchasing the right product for you. Just like we care about the food we put in our bodies and the products we use in our home, we need to be just as mindful as the essential oils use so religiously. Whether you are using essential oils topically, internally or diffusing. It's so important to make sure that you are using high grade oils that aren't harmful to you and your family!
A couple things to know before diving in:
The FDA does not regulate essential oils so no essential oil company has FDA "approved" oils.

In the USA it is still legal for large essential oil companies to dilute their oils with synthetic substitutes and chemical blends.

Why Aromatic Infusions should be your #1 when it comes to essential oils: 
Aromatic infusions is part of a co-op of organic and wild-craft distillers all over the world. We are members of the National Aromatherapy and Holistic Association, the Homemade Soap-makers and Cosmetics Guild, and the Organic Trade Association
Our oils are FCC approved and we follow GMP (good manufacturing practices) set forth by the USP (United States Pharmacopeia).
All of our oils are lab tested and verified by GC/MS testing and receive a COA (certificate of analysis).
All of these credentials are just the foundation to providing a therapeutic and reliable end product to our customers. Each bottle sold at Aromatic Infusions is hand poured, labeled, and capped.
The attention to care and respect we have for pure oils is vastly different from large essential oil companies, as they simply cannot produce the millions of bottles of oils they produce in the same fashion. Instead they must use huge vats of oils, conveyor belts, automated bottling machines, labeling machines, capping machines, and assembly lines.
Where to start:
Aromatic Infusions carries a large variety of oils but it can get overwhelming to decide where you should start. Try one of the best selling oils: Medieval Essential Oil Blend to keep everyone in your home healthy, Lavender to add a relaxing aroma to any bath or to a some tea,  Peppermint to clear your mind, Deep Tissue for all those stiff and tight muscles, and Sinus & Allergy to be prepared for the spring that's making it's way!