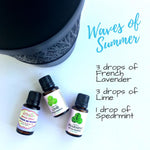 Waves of Summer Diffuser Blend
Wishing you were at the beach? Try adding this to your diffuser:
3 drops of French Lavender
3 drops of Lime
1 drop of Spearmint
With a beautiful, stimulating, citrus aroma, Lime brings relief for fatigue and anxiety.
Spearmint essential oil's aroma is revitalizing, and refreshing. It contains a naturally-occurring compound, menthol, creating a cool, refreshing atmosphere. 
French Lavender has it's own unique aroma full of floral and sweetness. Its aroma is stronger than that of regular Lavender.